WHAT WE DO
Centra Group is a professional engineering, consulting, trading, fabrication and contracting firm specializing in information technology, scientific equipment, renewable energy and environmentally oriented project management. We serve industrial, commercial, agricultural and government clients located in Indonesia, with multiple locations throughout the region.

Our technical staff is comprised of experienced professionals who have worked for a variety of environmental, industrial and governmental organizations. They are trained and motivated engineers, programmers, scientists, waste specialists, system technicians and regulatory compliance managers who are expertly prepared to provide client solutions for scientific equipment, air, land, water and waste solutions.
READ MORE
3P – Our Vision, Mission and Framework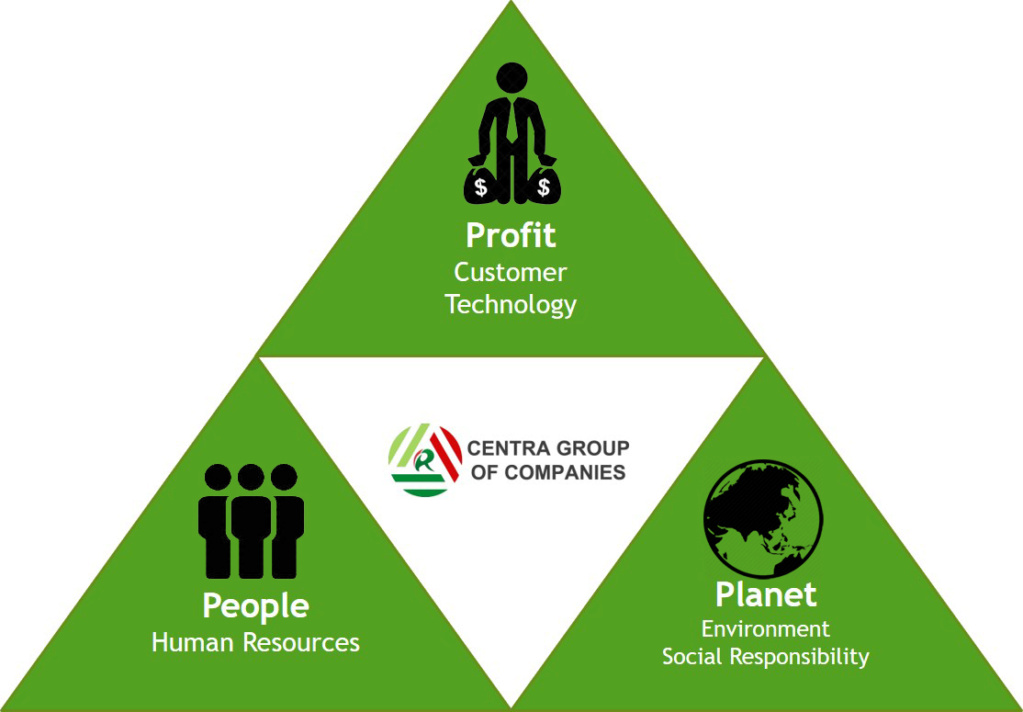 The term "3P" refers to a business model developed to encourage social responsibility and sustainability among businesses worldwide. The corporations who adopt these standards are known as "triple bottom line," or TBL companies.

Centra Group have adopted the "3P" model for our long term vision, mission and framework. Our "3P" stands for Profit, People and Planet.
CONTINUOUS DEVELOPMENT AND IMPROVEMENT
We believe that in this fast-growing era, a company needs continuous development and improvement values so that it will not crushed and destroyed by the current global market and competition. Therefore Centra Group is committed to continue to develop products and services to meet the demands of the customers and continuously develop and improve in the field of human resources as our biggest asset.
RIGHT FIRST TIME
We believe that by carrying out the principle of working right first time from the beginning it will minimize errors at the end of the process and finally all of our work will generate satisfaction for our customers and company.
Our Group of Companies
From upstream to downstream, Centra Group provides comprehensives and integrated product and services for mostly the environmental management and trading services.

Below is our group of companies (click or mouse pointer over the logo):


Hazardous Solid Waste Incinerator
Engineering and Fabrication of Medical and Hazardous Waste Treatment Plant
Electrocoagulation Waste Water Treatment Plant
Engineering and Fabrication of Medical and Industrial Waste Treatment Plant
Hazardous Solvent Waste Distillation System
Engineering and Fabrication of Solvent Waste Distillation Treatment Plant
Development of Enterprise Resources Planning (ERP) System
Development and Implementation of Integrated Enterprise Resources Planning (ERP) Management Systems
Development of Hazardous Waste Transporter Services

Development of Medical and Hazardous Waste Transporter Services
Development of Medical and Hazardous Waste Treatment Plant

Cradle to crave development of integrated medical and hazardous waste treatment plant
LEADERSHIP
The Board of Officer
CONNECT WITH US
Contact us